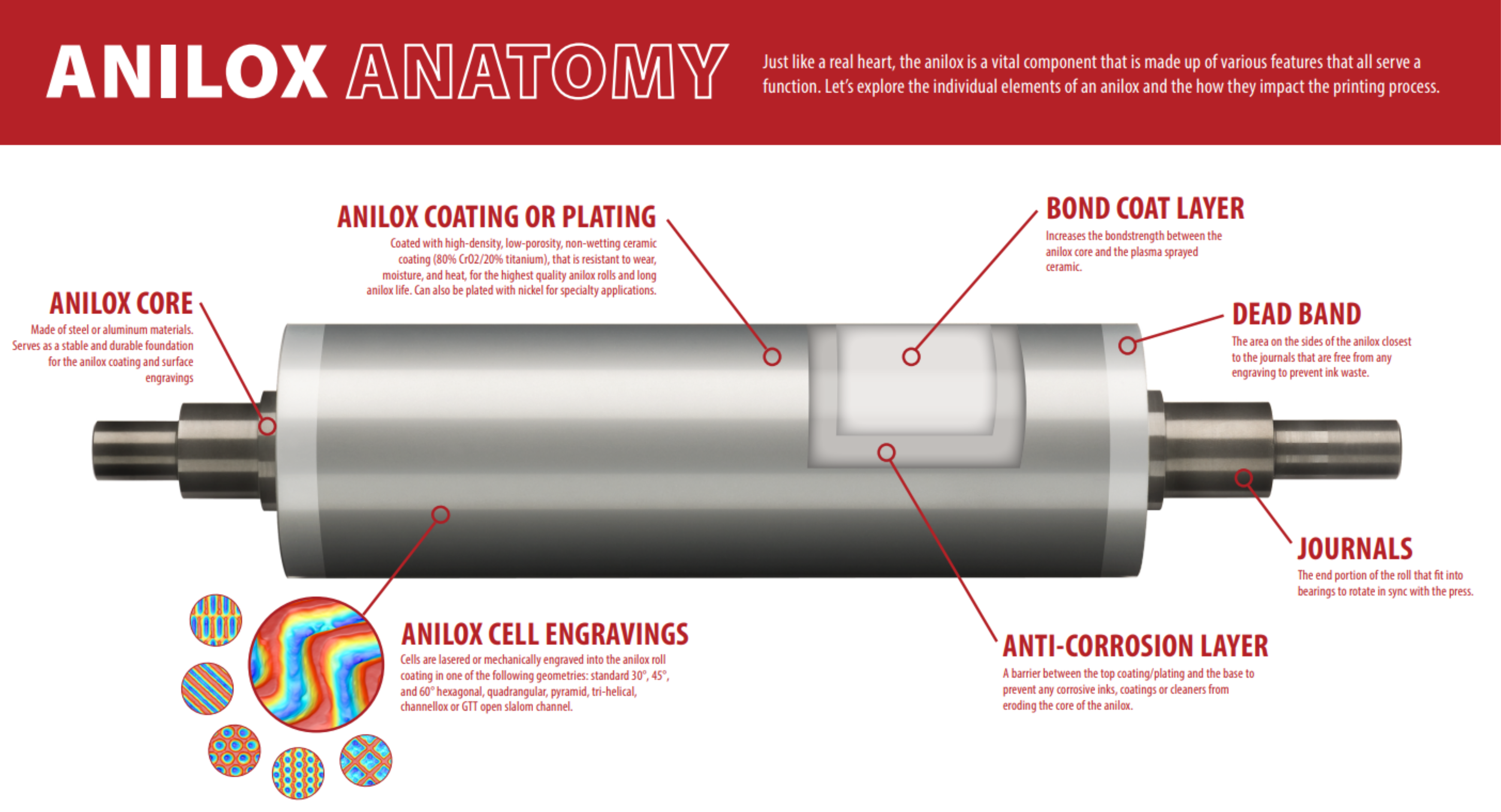 Apex International has been manufacturing anilox rolls and sleeves since 1989. In our previous Anilox 101 blog, we walked through What is an Anilox and the main features of its success. As the largest anilox manufacturer in the world, Apex International has extensive knowledge about the "heart of the flexographic printing process". In this next Anilox 101 series blog, we'll break down the different parts of an anilox roll and the role they play in successful flexographic printing.
COMPONENTS OF AN ANILOX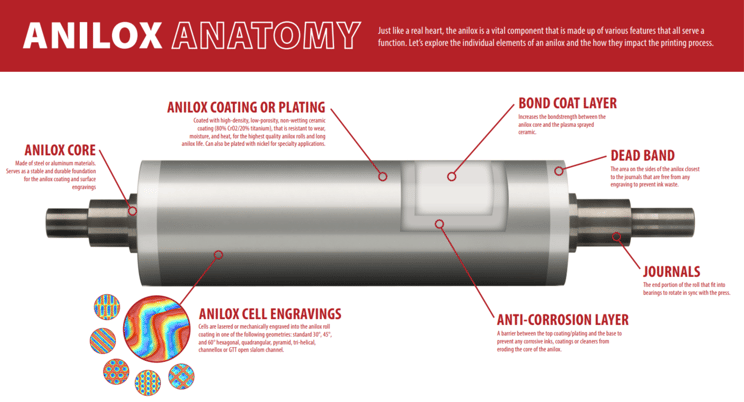 Just like a real heart, the anilox is a vital component that is made up of various features that all serve a function. Let's explore the individual elements of an anilox and the how they impact the printing process.
Anilox Journals. Anilox journals are found on anilox rolls, not sleeves. They are the end portion of the roll that fit into the bearings to rotate in sync with the press. Bent journals can cause vibration, banding, uneven ink delivery and variable dot gain leading to poor print quality and customer rejection.
Anilox Deadband. The deadband on an anilox is the area on the sides of the anilox closest to the journals that are free from any engraving. Deadbands are also used to separate the cell variations on a banded roll for anilox testing. An anilox without a deadband may struggle with constant ink build up and ink leaking, as well as problems with end seal failure.
Anilox Core or Base Material. The anilox core is traditionally made up of steel or aluminum materials and serves as a stable and durable foundation for the anilox coating and surface engravings. As the primary supportive structure of the anilox, a defective core could impact your press performance, print quality, and engraving consistency. Apex International uses super-hardened stainless steel anilox cores and journals for ultimate durability and stability on press.
BondCoat Layer. Ceramic anilox rolls require a bondcoat that increases the bond strength between the anilox core and the plasma sprayed ceramic.
Anti-Corrosion Layer. Many anilox rolls will have an anti-corrosion layer that creates a barrier between the top coating/plating and the base. This layer prevents any corrosive inks, coatings or cleaners from eroding the core of the anilox, which could cause the defects mentioned above.
Anilox Plating or Coating. If your anilox is to be laser engraved, it will receive a ceramic coating on top of the anilox base material and bondcoat. This ceramic is to be engraved with millions of microscopic anilox cells or channels in a specific engraving for your application. Apex International uses a high-density, low-porosity, non-wetting ceramic coating (80% CrO2/20% titanium), that is resistant to wear, moisture, and heat, for the highest quality anilox rolls and long anilox life. If your anilox is to be mechanically engraved, your anilox may be treated with nickel plating.
Anilox Cell Engravings. Anilox cells can be laser or mechanically engraved into the anilox roll coating. Cell shape precision and placement uniformity must be perfect for consistent ink or coating laydown and print quality. Anilox cells are traditionally engraved in one of the following geometries: standard 30°, 45°, and 60° hexagonal, quadrangular, pyramid, tri-helical, channellox or GTT open slalom channel.
Find your optimum cell shape for maximum liquid transfer and minimized anilox cleaning. Use the Apex Online Digital
Anilox Calculator for on-demand anilox recommendations or contact your Apex representative to discuss.
The patented GTT 2.0 open slalom channel is the newest innovation from Apex engravings proven to reduce ink consumption, ink spitting, foaming, pinholing, mottling, and your anilox inventory requirements. Learn more about the GTT 2.0 engraving in this Apex blog.
It is important to clean, maintain and store your anilox rolls properly to maintain cell integrity. Anilox cells will transfer ink poorly if they are damaged or scored by the doctor blade, plugged with ink, worn down due to poor coating/plating materials, engraved inconsistently or not according to OEM specifications. Common defects linked to poor anilox cells include uneven coating, ink spitting, dirty print, fill in, and skipout.
The anilox engraving process is extremely important to anilox performance and Apex International is proud to have the tightest T.I.R. and O.D. tolerances in the industry. Anilox cell quality control is incorporated throughout our manufacturing processes to ensure the best in anilox performance. Learn more about The Cost Saving Power of Anilox Quality Control and its impact in print performance in this blog.
TAKE CARE OF YOUR ANILOX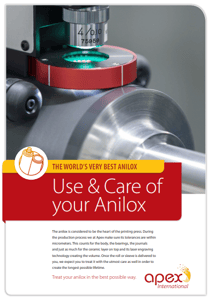 Just like your heart, it's important to take care of the heart of your printing process – the anilox roll. With regular anilox cleaning, maintenance and proper storage and handling, your print operations will be running profitably and predictably in no time. Download our free anilox use and care guide for manufacturer recommendations and best practice for ultimate anilox performance.
For robust, high quality, precision anilox roll and sleeve solutions, choose Apex International anilox rolls. With over 11,000 clients located in 110+ countries and 7 manufacturing facilities positioned around the world, Apex proudly produces anilox roll and sleeve products for wide web, narrow web, coating and lamination and corrugated applications. We understand your performance goals and strive for anilox perfection by using the best materials, the best technologies, and the best processes. Contact our team today to learn what makes our rolls and sleeves second to none and discover which engraving can help you reach your production goals today.