Flexo printers are facing many challenges every day, with flexo itself often being one of the biggest of them all. To further improve print quality and at the same time increase productivity, printers would require a level of process control that seems hard to achieve, given the amount of variables that surround conventional flexo. Apex now has a solution available close at hand, providing the consistency and repeatability that is needed for fixed palette printing.
Fixed palette printing means a printer can simulate up to some 85% of spot colours, using only CMYK (and, in some cases, adding Orange, Green and Violet to the equation). Having a fixed set of inks on a press enables these printers to significantly reduce costs and enhance press uptime. The fixed palette approach is ready to revolutionize the flexography industries. The change is due specifically to advancements allowing for unprecedented process control and consistency. Additionally, new tools such as a calibration roll have been designed to pinpoint what process parameters are failing so they may be addressed before problems arise. Process variable elimination and optimization of remaining processes is the key to maximizing the number of Pantone simulation possibilities using 4 colour fixed palette.
Productivity is key to success
When surveyed about their most important needs under current market circumstances, flexo printers from around the world overwhelmingly agreed on issues like coming up to color faster, increasing their press speeds, reducing ink consumption and improving quality. They seem to agree on productivity as a key to success, but with an average of only some 45% of uptime for a press to produce saleable products – the rest being spent as set up time (25%), wash up time (15%) and down time (15%) – the industry's goal to reach a press utilization target of 70% seems rather a long shot.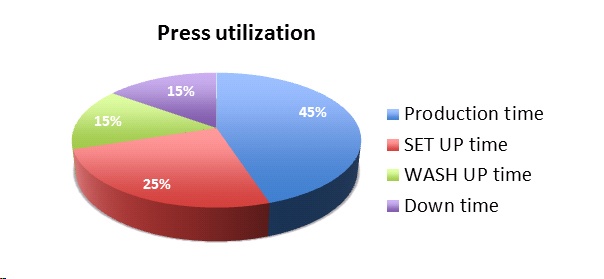 Parameters and variables
Of course, today's flexo technology is capable to live up to high expectations as it competes with offset, gravure and even digital printing. Modern flexo presses are able to change over from one job to another in only 12 minutes. In print production reality however, it will often take up to 2 hours to start a new job. This is caused by a serious lack of process control, which would enable printers to produce today in the same way they did yesterday – and to repeat what they did today again tomorrow.
Print results are depending on a combination of several parameters, including the press operators. The list of variables that they need to control is impressive: old and new presses are running side by side, there is a wide variety of plate types, tapes and substrates available and a broad choice of ink suppliers. At the same time, large customers like brand owners and retailers will often use more than 200 print companies to satisfy their need for packaging requirements, effectively multiplying the already many process variables by 200.
No more 'bypassing problems'
One of the crucial variables that should not be underestimated concerns the anilox rolls. Anyone ordering three rolls with similar specifications will often find that, despite the identical ink volume of the aniloxes, the amount of ink transfer can greatly differ, with tolerances up to 10% causing fluctuations in print densities. Despite the many challenges, in practice, flexo printers still aim and manage to achieve the required result by compromise and bypassing problems.
Truly solving the issues and fully controlling the process however would require them to remove the variables completely. To this end, Apex developed the most stable and repeatable anilox engraving, offering a consistent ink transfer which enables the whole process to be controlled, monitored and the root cause of defects identified quickly and easily. This in turn allows for enhanced flexo productivity and for highly cost-efficient fixed palette printing.
Constant and predictable results
Apex' revolutionary and patented GTT 'Open Slalom Ink Channel' anilox surface geometry has reinvented ink transfer. The GTT-rolls' low-porosity hybrid ceramic composition provides the highest-density, hardest and most ink-repellent surface layer available. Instead of a pulse laser, Apex uses a constant beam laser to create the unique structure of the GTT profile (consisting of 90% ink channel and only 10% channel wall) that enables a highly controlled and uniform ink transfer onto the plate. "Anilox is a far more important part of the printing process than many people think", says Bas van der Poel (Technical Sales Director, Apex): "It has to transport the exact right amount of ink, stable and invariable, to achieve constant and predictable results."
The consistent GTT anilox engraving influences many other aspects of production as well, explains Van der Poel, as it allows for higher plate resolutions and longer plate life, less doctor blade wear, smaller anilox inventories and reduced down time. "Quality is reproducible from the first meter through until the last meter, and can be consistently standardized from plant to plant – and even country by country."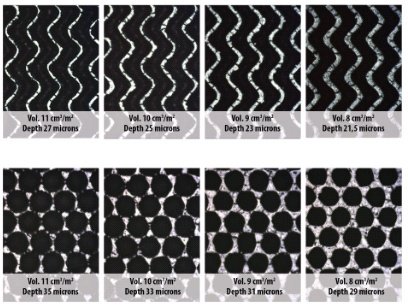 Image: The effect of wear on conventional anilox engravings compared to GTT
This image shows a polishing test, where the starting volume was 11 cm3/m2 and the rolls were polished down to 8 cm3/m2 in order to replicate the e­ffect of anilox wear during the lifetime of the roll and the e­ ect this has on the roll's consistency characteristics
Printing fixed palette
Many printers will already do some form of fixed palette printing, however very few printers are truly effective in this format. Fixed palette printing should enable 75% uptime – so if printers are not even close to this amount of uptime, then they are not printing fixed palette effectively.
Fixed palette printing is totally reliant on consistency and repeatability from all process parameters. This is also the main reason why many printers have failed to successfully implement technologies such as Opaltone and Hexachrome in the past. As the demand for optimized fixed palette is only expected to grow as brand owners demand better colour consistency with shorter run lengths and just-in-time production, the required scale of control is now finally being provided by Apex and its GTT technology.
Process Control Calibration Roll
Whether you print with 4 (CMYK) or 7 colours (+ OGB), both possibilities are called 'fixed palette'. The 4 colour fixed palette has two distinct advantages over 7 colour. The first is a matter of variable elimination; the second advantage relates to flexibility.
To ensure fixed palette printing is able to perform Pantone simulation with consistency, efficiency and with high-quality results within a high volume production environment, Apex offers a Process Control Calibration Roll. With this roll, printers can check the performance of any production when printing problems or issues appear, such as inadequate densities or incorrect delta E values. By being able to quickly establish whether it is either the anilox, the ink, the plate or the press causing the problem, productivity can be optimized.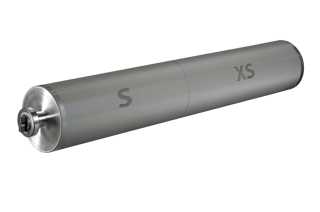 Image: Calibration roll for flexoprinting Control Consistency, half of the roll is engraved in GTT S and half in GTT XS
Creative flexibility
Bas van der Poel concludes by explaining how Apex' GTT anilox rolls allow printers the creative flexibility to start up fixed palette printing by, at first, just always having full colour on the press: "This leaves you the opportunity to add any spot colours or special lacquers you may require on the remaining print stations. This will also enable you to still use your existing plates, while you do a smooth transformation to true fixed palette printing. In this way, fixed palette can run in between standard flexo without costly set up changes."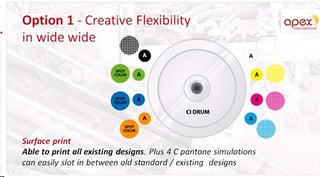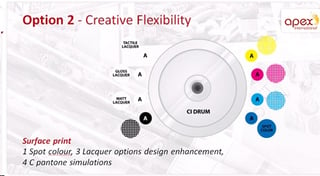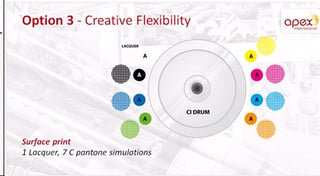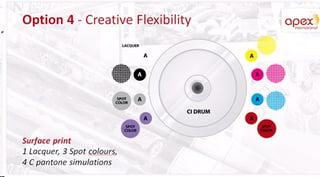 All unauthorized reproduction, redistribution or republication without express written consent is prohibited.