Providing the highest quality in flexographic printing has always been key to the rise of Uniflex, ever since its foundation in 1996. Based in Minsk (Belarus), it is now one of the biggest producers of flexible packaging of the CIS and Eastern Europe. Constantly looking for ways to further improve its performance, Uniflex recently decided to switch to Apex anilox rollers: "GTT rollers allow us to print at maximum production speed, while maintaining stable an invariable ink transfer at all times."
Uniflex's modern facilities in Minsk cover some 17,400 sqm, employing a highly qualified and skilled team of experienced professionals that attends to the whole manufacturing process – from packaging design to cutting and packing. It creates innovative solutions in packaging and labeling for food, chemistry, cosmetics and other industries – mainly in Russia, but increasingly also in Western Europe.
The production of a wide variety of flexible packaging such as vacuum bags, pouches, sachets, roll packaging and self-adhesive labels is taken care of with over 40 machines, ranging from high-performance wide-web flexographic presses to digital printing equipment and laminators. Uniflex can print up to 10 colors on any type of flexible laminated films (polypropylene, polyethylene terephthalate, polyethylene, foils) from 12 up to 200 micron.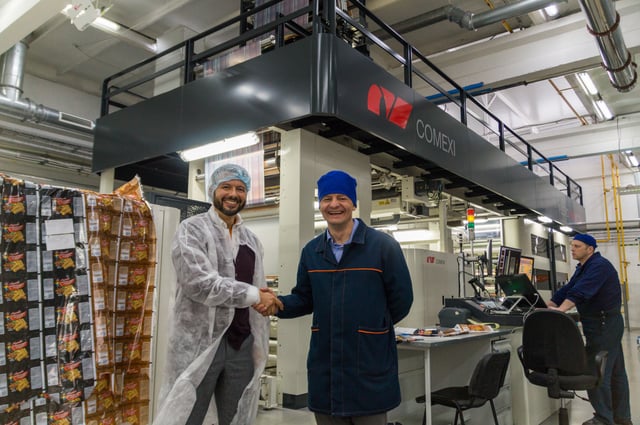 Photo: Yuri Mechkovsky - General Director of Uniflex (right) & Kris Sentek Apex International – Sales Director EMEA
State-of-the art flexographic technologies
The quality and functionality of the flexible packaging created and produced by Uniflex, are acknowledged by both its clients and internationally recognized by the industry awards such as the FlexoTech Supreme Award (United Kingdom), EFIA Print Awards (United Kingdom) and PART Awards (Russia).
To ensure this high level of perfection, Uniflex continues to invest in state-of-the art flexographic technologies: HD Flexo and Full HD Flexo to enhance image detail reproduction, MultiColor for an extended color range, and MetalFlex to simulate metal and metallized surfaces on labels and web packages.
Consistent ink transfer…
Always pushing the limits to increase productivity without compromising its high quality standards, Uniflex' specialists faced the challenge of finding a way to maintain a consistent and uniform ink layer at high production speed. As the conventional anilox rollers in use showed a wide tolerance of 5 to 10% in volume between identical rollers, Uniflex decided to call upon Apex's expertise in this field.
Eugen Lungin, Technical Director at Uniflex, recalls the team's surprise at the beginning of the tests: "Right after starting up the machine, now equipped with Apex's UltraCell+ (UCP) anilox rollers, we got high-quality prints without any additional setups. The aniloxes provided a very consistent and precise ink transfer."
… at all speeds
After this highly successful first experience using Apex rollers, Uniflex continued to also test the full range (XS, S, M, L and XL) of Apex GTT rollers with its patented Open Slalom Ink Channel anilox surface geometry: "GTT rollers provide us incredible evenness of ink layers and constant ink transfer at all speeds. The volume of ink transfer has remained stable and invariable up to our maximum production speed of 350 to 380 meters per minute", says Lungin, adding: "Also, GTT S and SX rollers allow us to avoid one-color moiré – a standard problem of conventional 60∞ aniloxes."
Uniflex's switch to Apex UCP-rollers now ensures improved consistency, as aniloxes with identical ink volumes enable printing of high-quality products without any difficulties. Extending to the full range of GTT-rollers allows Uniflex to print at maximum production speed, thus increasing productivity. Eugen Lungin concludes: "We think that Apex's aniloxes are the best we ever used. Therefore, we will continue our partnership for the future."
Are you looking for consistent ink transfer, even at maximum production speed? Visit our website or contact an Apex sales professional today.