Labels and packaging producer Reflex is one of the largest companies of its kind in the UK: "We seek to be on the forefront of innovation, investing in technology and people for continuous improvement." In an effort to standardize print quality at its label division, consisting of seven production sites with multiple presses, Reflex teamed up with Apex experts to aim for better process control.
Reflex was founded in 2002 and has established an international customer-base for its self-adhesive labels, linerless labels, shrink sleeves, flexible packaging, in-mould labels, labelling systems & software, artwork & design and more. Currently, it employs some 890 people across its total of twenty production plants. Melissa Aplin (responsible for Marketing at Reflex) says: "Reflex is aiming for the top position in label printing in the UK. Our most important, but not limited to, market segments currently are MFP (short for meat, fish and poultry) and Food-to-go, but we have a strong growth ambition in BWS (beers, wines and spirits)."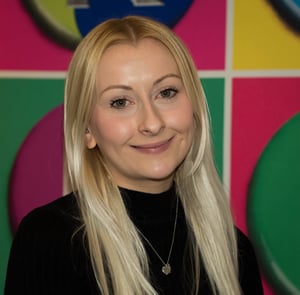 Picture: Melissa Aplin, Responsible for marketing at Reflex
To be able to maximize efficiency and increase flexibility, but at the same time guarantee overall print quality, Reflex set itself the goal to standardize production, explains Jaye Carpmail (Labels Print & Colour Control Manager at Reflex): "We want to be able to print in CMYK from press to press in the same fixed set of parameters. By moving all seven label plants into Fixed Palette printing, we can save time and reduce costs at the same time."
Fixed Palette printing
Fixed Palette printing enables a printer to simulate up to some 85 per cent of spot colours, using only CMYK (and, in some cases, adding Orange, Green and Violet to this equation). Having a fixed set of inks on a press enables these printers to significantly reduce costs and enhance press uptime. Although the Fixed Palette approach is ready to revolutionize the flexography industry, implementing it does take time and effort, says Jaye Carpmail: "Fixed Palette printing is totally
reliant on consistency and repeatability from all process parameters. In order to standardize our production, we took a good look at each parameter: anilox, doctor blades, inks plates and presses. We set up our own range of specifications and put in place ways to check and monitor these."
Measuring anilox rolls
Next to investing in new presses and devices and standardizing the choice of inks and plates, Reflex also installed Troika anilox microscopes, matching the equipment that Apex has also added to its existing measurement system. Carpmail: "However, we then came across a variation in the tolerance from one device, at Apex, to another, at Reflex. So, the basis for this standardization proved rather difficult, as the Anicam is key to Reflex controlling both the quality, and auditing, of our anilox's. However with the use of a banded calibration anilox from Apex, the issue was resolved".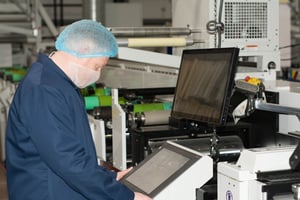 Picture: Jaye Carpmail, Reflex' Labels Print & Colour Control Manager
Robert de Leest (QC and R&D Officer at Apex) has done numerous anilox measurements and recognizes the problem: "Of course it is a good development that printers are improving their process control by investing in measurement equipment. But analysing a screen that has been laser engraved in ceramic, is not an easy thing to do. Many factors can influence the measurement results, and the instruments themselves come with a certain tolerance between them. At the same time, we are looking for accuracy at a micron-level."
Mutual learning curve
Reflex decided to team up with Apex experts to tackle the problem. Carpmail: "During the project, many things were new to both parties. One conclusion led to another challenge that needed to be solved. Apex has given its full support and also checked its own processes and workflows. There was real cooperation in R&D and improvement. There was a mutual learning curve. The standardisation project took 6 months to tune the plate, tape, ink, blade and anilox to our print conditions at Reflex and set the standard."
All possible cell shapes and engravings were tested over this period, and Reflex has noticed that the production process of Apex' GTT proves to be the most consistent: "GTT offers us better process control. All other cell structures created difficulties from print job to print job, because of the surface of the rolls. GTT however gives a more consistent ink transfer and the volume variations are not as large as they are with conventional engravings. This is crucial to actually make Fixed Pallette printing work."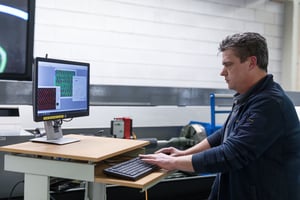 Robert de Leest – Apex QC & RD officer
As a result of the close cooperation between Jaye Carpmail with Apex, the volume variation across roller's delivered to Reflex are now less than 5%. The project looks set for a follow up as well, with Reflex's Flexible Packaging division looking for the same level of standardization that has now been achieved by the Label division.
Project follow up
Reflex now sees the advantages from having the process under control and is able to switch jobs between machines and even between plants. The project also helped Apex to further improve on its anilox rolls, says Nick Harvey (Technical Director at Apex International): "A successful case like the Reflex project has contributed to the continuous improvement of GTT into GTT 2.0."
Also interested in standardization or process control? Discuss the possibilities with our technical experts and get advice on the type of anilox and profile for the application. There is always an Apex technical sales rep in your neighborhood!
This is part 3 in a series of 3 short articles on anilox measurements and accuracy, read the first article (The need for measurement) and the second article (Getting real with measurements) here!