In flexographic printing, the anilox surface where ink meets plate has always been one of the prime limiting factors in print quality, press speed, and workflow. "Apex has met that challenge head-on by reinventing the very concept of ink-to-plate transfer", says Nick Harvey, Technical Applications Director at Apex, describing the continual improvement and growing success of GTT since its introduction in 2007. "We have established well over 20,000 installations worldwide so far. Anilox manufacturers are paying Apex the ultimate compliment now by actually trying to emulate our patented Open Slalom Ink Channel anilox surface geometry by coming up with (semi-) open cell engravings and all variations of cells with removed walls."
But GTT cannot be copied, explains Harvey: "GTT is about much more than its unique open cell structure. We have been constantly enhancing and fine tuning GTT over the last ten years, both internally and together with partners in projects like REVO, where packaging industry leaders have joined forces to optimize the flexo process. As a result, the GTT rolls and sleeves produced today are actually already the next generation GTT."
Revolutionary technical innovations
During the conceptual development of GTT, Apex investigated all possible engraving structures, both cellular and open cells, to weigh every benefit and disadvantage. Harvey: "By combining three revolutionary technical innovations, Apex has been able to reinvent ink transfer. GTT's low-porosity hybrid ceramic composition provides the highest-density, hardest and most ink-repellent ceramic surface layer available. Instead of a pulse laser, we use a constant beam laser to create smooth and precise channel walls for our Open Slalom Ink Channel geometry that lets the ink flow uniformly and calmly onto plate – thus reducing pinholing, mottling, haloing that occur in print.
GTT is the industries only guaranteed anilox solution against spitting, which is a major advantage for the label industry in particular."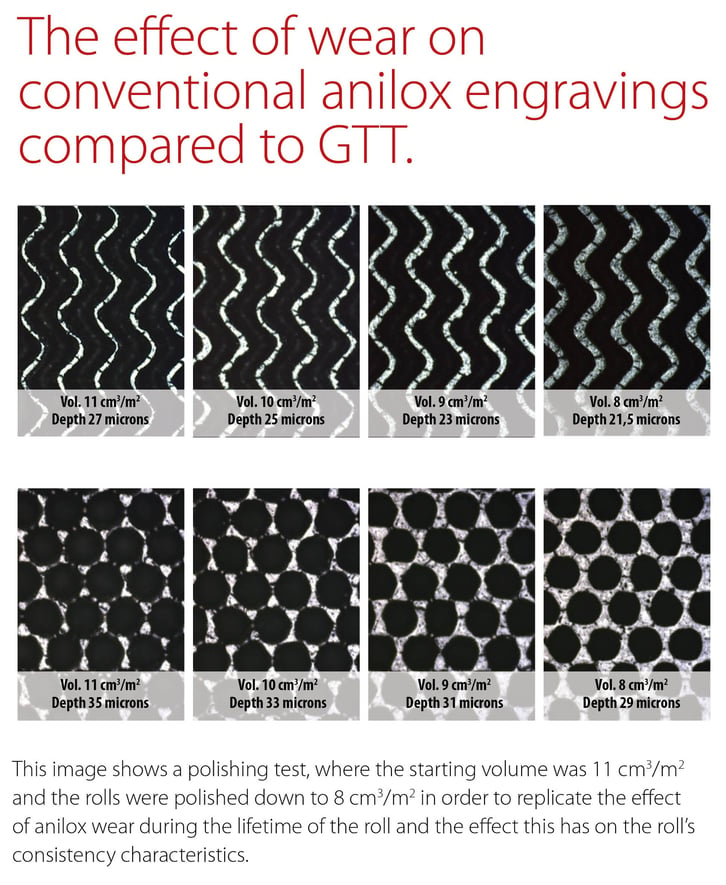 Repeatability and consistency
GTT has three basic benefits over any other anilox engraving. 1-It ensures high repeatability in manufacturing – from roll to roll, month after month.
2-GTT significantly reduces cliché wear. And it provides a better controlled print performance and guarantees print consistency for over 100,000 meters (see images "Consistency" and "AniloxWear" accompanying this article). 3-GTT is the ultimate technology to be used in HD Flexo and Fixed palette printing from four up to seven colors. Harvey states: "Fixed palette printing should be truly 'fixed': no ink changes, no anilox changes, no ink adjustments – just plate sleeves out and plate sleeves in.
My question to printers is always: 'What is your press uptime?' – meaning the time their press is producing saleable product. The industry standard is only 35% to 40%, because most printers still have to adjust, modify and set up their presses for each job. GTT facilitates true Fixed Palette printing and enhances press productivity improvements, that enable uptimes of 65% to even 70%"
Continuous improvement
Apex' continuous improvement project has enabled the development of the GTT 2.0 next-generation technology. It also allows Apex to constantly re-evaluate our production of all conventional engravings as well. This ensures that a conventional hexagonal cell or any other market trends in engravings are also continuously optimized and improved .
Therefore if a printer determines that the benefits of GTT exceed his production requirements, Apex is in the position to offer any conventional cell form engravings to a world class gold standard", concludes Harvey. "Every printer can count on Apex quality, precision and reliability for all his anilox requirements."
Apex offers solutions for the concerns outlined in this article. Its Accora glue roll and doctor roll are made from stainless steel and ceramic, respectively, and provide benefits that include glue savings, easy cleanup, faster speeds and longer roll life. Its GTT laser-engraved anilox is known for its ability to achieve consistent ink-to-plate transfer. Thanks to its patented open slalom ink channel geometry, it allows a precise volume of ink onto the plate, rotation after rotation and job after job. Learn more at www.apex-groupofcompanies.com.