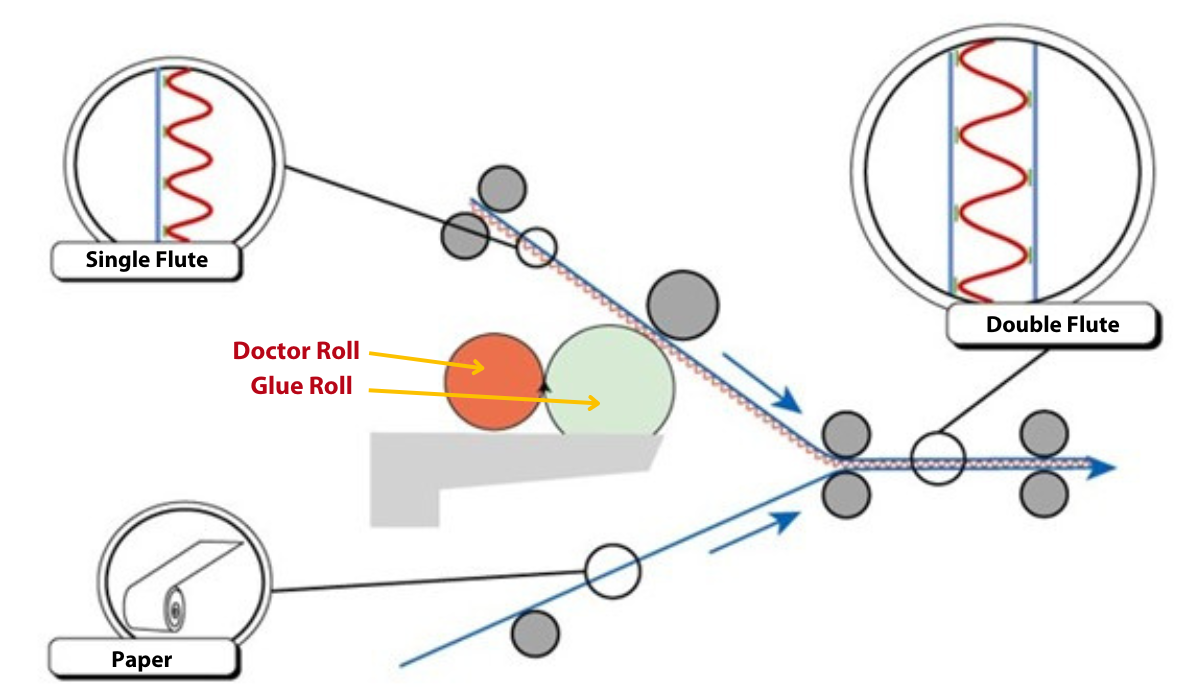 Savings and quality are the key goals in corrugated board manufacturing. Finding innovative solutions to reduce your ink, glue, and starch consumption as well as downtime can make a big impact on your bottom line and your board quality.
The anilox roll is known as the heart of the press, while glue set rolls are the heart of the corrugator. These roll solutions play a big factor in generating more savings and higher board quality in your corrugated operations. Here's how, from the leading glue set roll manufacturer, Apex International.
Creating the Perfect Board
Ultimately, your goal as a sheet factory or full-service corrugated converter is creating the perfect board efficiently and profitably. To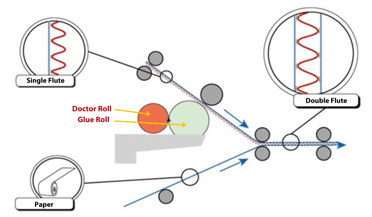 produce a corrugated board, you must have a kraft paper liner and a medium (the fluted paper between 2 liners). In production, moisture is added to the kraft paper by the application of starch glue when passing through the glue set, and then pressurized against a set of corrugating rolls to form the flutes of the board. This medium is then attached to a set of liners and dried to create the corrugated board we use every day.
For the board to be straight, smooth, and strong, the glue set must apply an even coat of starch glue to the board. While it may seem like a simple task to get the glue on the paper, both the doctor roll and glue roll can heavily influence starch glue consumption, successful bonding, equipment speed, dry times, and board quality.
Considering the surge in demand for E-flutes and micro-flutes, thinner and weaker paper is being used, with more flutes per sheet. These flute types require more starch consumption, more moisture in the board and a need for either slower speeds or a higher drying capacity. Now more than ever, better control of the glue application process is essential to deliver the best and most cost-effective results.
The Roll Factor
When applying the glue to the board, there are several roll qualities that impact the consistency of the laydown. If the doctor roll has score lines, extra and unnecessary glue will be picked up and transferred. If the glue roll has corrosion or chrome flaking, it will apply the glue unevenly. These problems with your roll quality will result in increased starch consumption, improper bonding, and an uneven board, as well as washboarding, curling and warping.
These wave-like discrepancies can make your board unprintable, weak, flimsy, negatively affect the print speed due to feed issues, and/or have an all-around ugly appearance that customers will reject. Not to mention, the waste in downtime, performance speed, drying time and downtime now required to troubleshoot and dry the uneven layer of glue.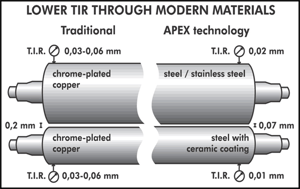 In order to achieve precise glue laydown, the glue applicator roll and the doctor roll must be manufactured according to the T.I.R. (total indicated runout) tolerances specified by your OEM. This promotes the closest and consistent gap possible, down to 0.007, meaning less starch may be applied to achieve required bond strength. Apex glue sets are manufactured with the tightest T.I.R. and O.D. tolerances and offer a precise laydown of starch glue. With Apex glue sets you can eliminate many board defects, reduce starch consumption, and create a perfect board every time.
Roll construction will also impact the roll performance. Apex glue rolls are made with the AST stainless steel fusion manufacturing process combined with the doctor roll produced with the Apex's proprietary, super-hard black mirror finish ceramic. The high-performance Apex glue sets enable faster production speeds, reduced glue consumption, easier cleanup, job repeatability, and longer roll life. This roll construction also resists flaking, scoring, and corrosion which will impact board quality tremendously.
As seen in the animated images, glue sets manufactured with low precision and quality generate a larger, more inconsistent gap for glue application. A roll that is simply .01 off, as shown, can cause an uneven laydown increasing drying times, slowing production, and wasting unnecessary starch consumption. Roll manufacturing quality is the true key to unlocking savings, through starch and waste reduction and faster drying and equipment speeds, creating your most profitable operation yet!

Precision Rolls for Profitable Boards
Precision rolls create profitable board production. When you invest in quality glue sets from Apex International, you invest in a solution designed to save your money, your raw materials, your customer satisfaction, and your reputation. Glue set rolls are a vital factor that should not be overlooked in your board making process. Choosing the right roll will make all the difference in your board production. Contact your Apex International representative to learn how Accora glue sets pay for themselves as you save on starch, time, and money in your board production process - www.apexinternational.com.