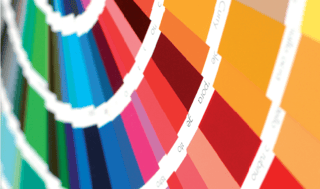 Recent studies and trials aimed at optimizing Pantone simulation suggest that the fixed palette approach is ready to revolutionize the flexography and label industries. The change is due specifically to advancements allowing for unprecedented process control and consistency as well as the development of new tools designed to pinpoint which process parameters are failing so they may be addressed before problems arise.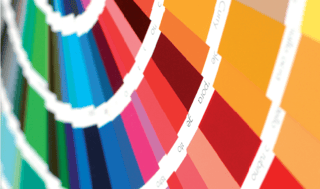 4C No limits - No compromise!
According to Nick Harvey – Print Application Director of Apex International - 4 color fixed palette has many advantages over 7 color simulations in for particular for wide web Flexo. First you must understand and consider that existing wide web printers have:
Many existing designs that they hold plates in stock for (100,000's Euro's)
Many ink press returns in stores that require re-formulating for spot color printing (1000's Euro's)
A number of customers that will not move old designs to Fixed Palette
When you understand and consider the above, printers require a transition solution to move over to Fixed Palette. Apex 4C using the GTT technology offers this smooth transition. Harvey states that an estimated 90% of printers only have 8 color presses and therefore 4 color Fixed palette plus White allows for printers to use the spare 3 units for:
Spot colors that are not possible with 4C simulation and this gives the possibility to print 100% of the pantone book.
Printing designs side by side saving set up costs, increasing run lengths, increasing profits
Printing up to 800 colors at the same time (a designer's dream)
Printing added value combination lacquers, Gloss, Matt, Tactile
Printing up to 800 Metallic colors at the same time just by backing simulations with silver
You still have the possibility to increase to 5, 6 or 7 C as and when it suits your business needs and your production is comfortable and consistent with 4C.
Finally the ability to print all existing designs in the current format without disturbing the 4C fixed process set.
Added to the above moving to Fixed Palette printing in the first instance is a matter of variable elimination in order for printers to make the transition into Fixed Palette Color simulation they need to optimize their internal process control which requires a mind set to remove / eliminate as many process variables as possible.
Therefore starting this journey into Fixed Palette is much smoother when you begin with the already familiar Y M C K process set. When it is understood that 4C brings a possibility of more than 800 colors within a delta e of 2 this is already a huge step forward, whilst at the same time allowing all existing designs to be printed and press return inks to be used away during the transition as stated above.
The demand for optimized fixed palette is only expected to grow as brand owners demand better color consistency with shorter run lengths and just-in-time production. Chief among these concerns is the ability to create color consistency across multiple markets ensuring that the same values and same Pantones can be printed on labels just as they can on films.
For more than a year, Apex International has been involved in a project to proof that Fixed palette printing with only 4 colors is the future of the Flexographic printing industry. At Drupa the results of the trials will be presented to the international Flexographic printing industry.
What is so special about thís project?
Fixed palette optimization through advances in color management and process consistency has fundamentally changed flexographic printing in the 21st century. Brand owners around the world have taken notice. In fact, more and more brand owners are choosing printers with a proficiency in fixed palette. Two leading brand owners – Asda/Walmart and Morrisons – have contributed their participation to the project from the start. They have offered designs of some of their packages to be used and printed in the trials.
Secondly, the designs contain packages that were previously printed in various different types of printing techniques, going from Litho to Aluminium foil lidding, from Gravure to Surface Prints in Flexo and from UV Label to UV Shrink sleeves. All these designs are now printed in Reverse on OPP in Flexo!
Third, the number of different designs per printing plate are incredible, all printed with CMYK. For the Morrisons design more than 100 Pantone colors were matched and 28 (!) designs were printed. The Asda printing plate covered 17 designs and also here more than 100 Pantone colors were matched!
"Nothing is Impossible"
Apex International has proven that the impossible ís possible by presenting print results in UV label, OPP Polythene and Offset/Litho. Visitors to Drupa can come to the Apex booth and check the color results with their own eyes, as well as with the X-Rite Color management equipment Exact Scan & ColorCert Master. Since it is about matching the original proof that is signed off by the brand owner, the Apex stand will also provide this original proof. And as if that weren't enough proof, Apex also displays some of the original packaging the way they can be purchased in the supermarket nowadays.
The Morrisons Print Proof with 28 designs previously printed in different printing technologies, now all on OPP Reverse Print in Flexo.
The 'role' the Anilox played
"Achieving color consistency is probably the most difficult component of transitioning to a fixed palette process." says Bas van der Poel, Technical Sales Director EMEA at Apex International. "Fixed palette is about control: control over variables, control over ink flow and so on. It is this control that has allowed us to hit the number of Pantones we have with these trials and do so while not having to make any changes to plate inventory. It requires a level of control that simply is not possible with conventional anilox rolls.
Apex holds globally recognized patents on the award-winning GTT technology that uses continuous lasers to engrave a slalom pattern onto the anilox. The continuous laser is responsible for creating an anilox product capable of the smooth, consistent and controlled laydown necessary to optimize fixed palette. The Fixed Palette 4C consists of 4 GTT rolls/sleeves and one calibration roll/sleeve for closed-loop control and a guaranteed process stability".