Through data and process control, many modern converters are finding innovative ways to cut production costs and increase their bottom line. As the "heart" of the flexographic printing process, the anilox bears a large amount of responsibility for print quality and press performance. Thankfully, anilox quality and performance is now capable of being measured, controlled, and optimized to save on ink, maintenance, and downtime through new inspection technology. However, due to the many measurement tools and techniques in the market today, coupled with no industry recognized standard for cell volume measurement, numerous printers are unaware of the value and cost savings that accurate anilox inspection can bring to their print processes.
In this blog, we'll discuss how to utilize the latest anilox inspection system combination to save in various areas of your print operations and how to increase print quality and profitability with minimal investment.
What is Anilox Quality Inspection?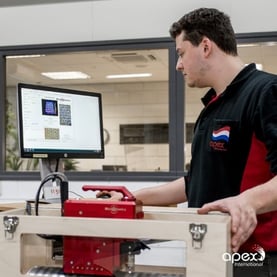 To measure anilox quality, a roll inspection microscope and integrated analysis software is required. It is important that the inspection system can capture cell volume, depth, screen count and angle measurements and display data in an easy-to-read format, quickly and accurately.
Apex International uses the Veritas inspection system from MicroDynamics. This inspection system is the fastest, most accurate QC system available for printers and converters today. Simply place the Veritas instrument on your anilox roll and click to scan. The inspection system will record and display important cell measurements, in less than 8 seconds! With training from Apex or MicroDynamics, operators will understand the impact each anilox measurement could have in the print process and choose the best roll for production.
By putting an anilox inspection process in place, printers can discover roll damage and volume loss before placing on press, saving on downtime, ink usage, product waste, and more.
Cost Savings Through Inspection
Save on ink consumption. As anilox cells plug with ink or become worn from the doctor blade, cell volume is reduced over time. A loss in cell volume will decrease the amount of ink transferred to the printing plate, resulting in dull, faded print. Facilities that do not inspect their anilox quality may be unaware of the poor anilox and instead, pump more ink into the system or, even riskier, re-formulate the ink to achieve the level of opacity needed. Sure, this solves the print problem, though at the expensive cost of rising ink consumption. On the other hand, operators that inspect their anilox before placing on press can quickly assess volume and pull aniloxes for cleaning or re-engraving before they cause waste on press. Using clean, quality anilox rolls will optimize your job for the highest ink mileage and save you in ink cost and waste.

Save in print waste. Not all anilox engravings are the same. Cell volume affects print quality, but so does the shape and size of each cell. So even if the volume "number", or carrying capacity, is accurately measured, the different shapes of the cells will result in a different quantity of ink transfer. For example, the two scans below are almost identical on volume and well within tolerance of 4.55 and 4.50,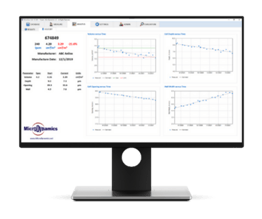 respectively. However, the difference in the cell shape and wall will lead to inconsistent printing. While the volume alone is almost perfect and would pass any QC process today, the print performance of these two aniloxes will be totally different. One giving a color density of 1.56 and the other a color density of 1.79. This is clearly an unacceptable deviation and will cause color inconsistency from run to run and rejects from the customer. Using anilox inspection, operators can note the correct cell shape, volume and size in order to choose the correct anilox for consistency on each job run and reduce print waste.
Save in maintenance & downtime. Seeing the condition of the microscopic anilox cells empowers operators to make decisions regarding cleaning, maintenance, and production. Using accurate anilox measurements, operators can pick the best rolls for the job and maximize their time to clean and maintain only the rolls that require care. Eliminate the downtime of guessing if the anilox is the cause of a defect. With consistent inspection processes, you can predict and optimize your maintenance, cleaning, and re-engraving schedules. Additionally, operators can reduce press set up time and keep the press running with the best performing rolls.
Assess your anilox ROI. Anilox rolls are no small investment. You should be confident in the quality of your rolls and roll manufacturer. Using an inspection system with a built-in database, you can track roll wear and tear over time, along with your return on investment. How many jobs does the roll last before cleaning? Maintenance? Re-engraving? Is ink building up more often in one roll or engraving versus another? This will also enable you to identify and qualify anilox's that are considered high maintenance and require more regular cleaning. When examined, this will demonstrate that a better cell shape or engraving pattern can save you a lot of money on cleaning costs. A poor cell shape can increase your cleaning costs by a multiple of 4 which means the costs of cleaning the anilox in some cases is higher than the anilox purchase itself. Data like this will allow you to weed out the bad rolls of the bunch that require the most time and attention. This allows you to upgrade your inventory with the best performing rolls for maximum uptime. With objective data, leaders can make informed decisions regarding their anilox investments and maximize their operator time and anilox ROI.
Process Control For Ultimate Savings
For anilox inspection to provide true value, printers must incorporate inspection into their standard operating procedures. For best results, we recommend: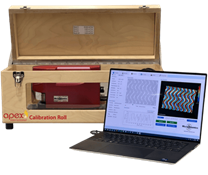 Inspection upon receiving anilox rolls from supplier (to benchmark standard volume and assess roll quality)

Inspection prior to placing the anilox on press (to assess any cleaning needs or damage from storage and choose best quality rolls for production)

Inspection after taking the anilox off press (to assess roll ROI and maintenance needs)

Inspection prior to regular cleaning (to benchmark current anilox state)

Inspection after regular cleaning (to assess cleaning quality or re-engraving needs)
Keep in mind, with the Veritas system, scans take less than 8 seconds! Therefore, with less than a minute investment, printers can save thousands lost in downtime during production, maintenance & cleaning time, and/or re-engraving costs.
Apex International is proud to supply the Veritas system to our print customers around the world. Investing in systems that provides accurate, objective data regarding anilox quality will save you in various production and maintenance costs for years to come. Contact our team to learn about our new standard for accurate anilox inspection and start saving today!