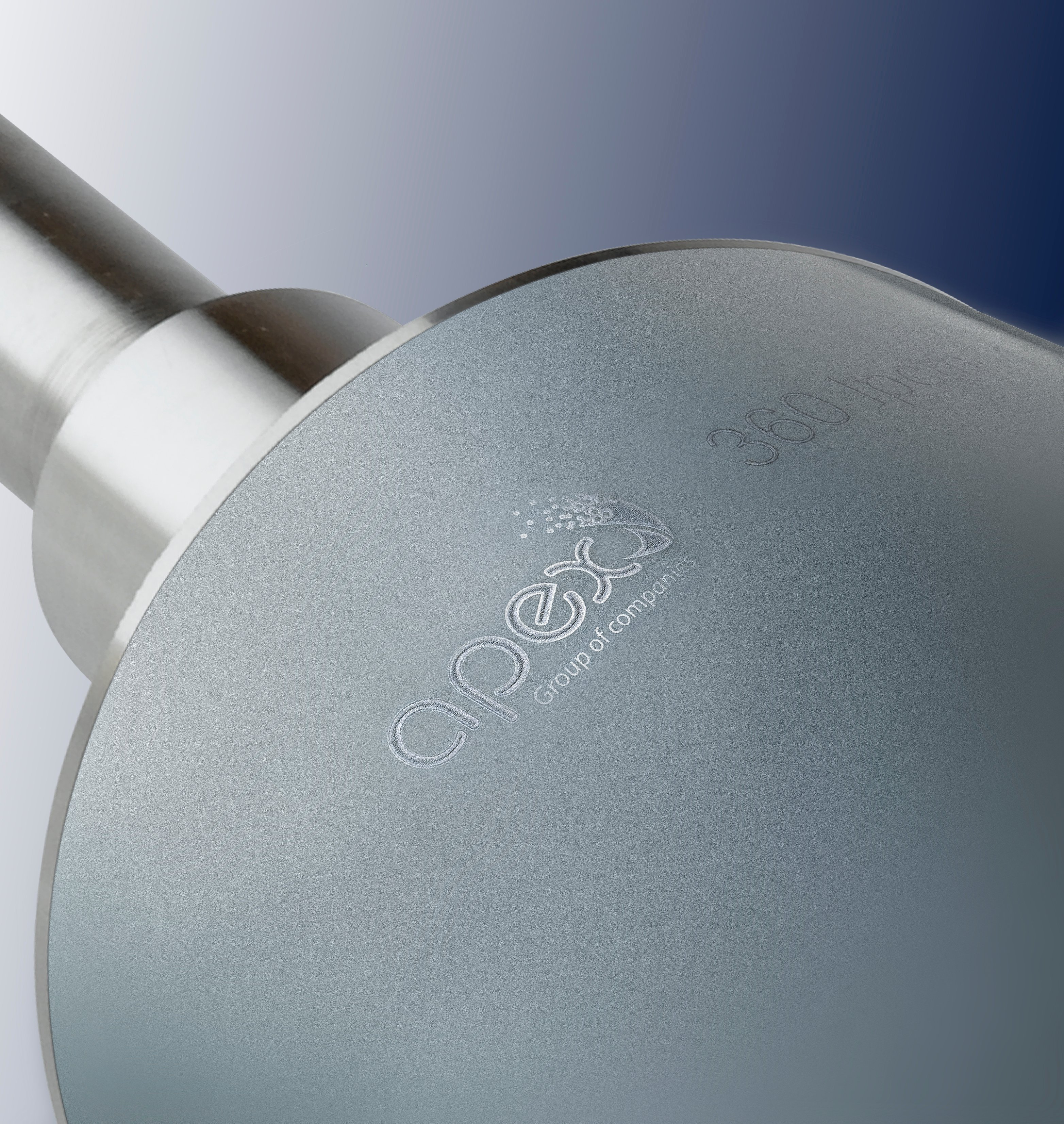 As a global leader and innovator of anilox rolls and sleeves, Apex International is a subject matter expert in anilox transfer technologies. With over 11,000 clients located in 110+ countries supported by 7 manufacturing facilities positioned around the globe, Apex is the largest anilox manufacturer in the world! We proudly produce anilox roll and sleeve products for wide web, narrow web, coating and lamination, and corrugated applications. These precision rolls are known as the heart of the flexographic printing process and play a vital role in the quality and performance of the print process. In this blog, we take a closer look at what is an anilox and why is it important.
Definition of an Anilox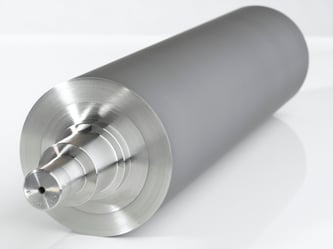 What is an anilox, you ask? An anilox is a robust cylinder, traditionally constructed of a steel or aluminum core, with a porous ceramic coating that is engraved with microscopic cells along its surface. The anilox is available as a roll or sleeve, engraved through mechanical processes or laser technology, and is a key component of the flexographic printing process. The engraved cylinder is responsible for picking up a uniform amount of ink or coating from the ink pan/chamber in its millions of tiny cells and transferring it to the raised surfaces of the printing plate. Hereby, the anilox has done its duty and the printing plate is then responsible for transferring the ink onto the substrate to create the final printed product.
There are multiple properties of the anilox, such as cylinder size, cell shape, and cell count, that are tailored based on the flexo application you are processing. For the higher quality, intricate print found in wide web and narrow web printing, you will need an anilox with a high line screen. Line screen is the amount of anilox cells per inch, allowing for more precise ink pick up and laydown. For block lettering and flood coats, often found in corrugated applications, a lower line screen will suffice. Next, we'll discuss how these applications impact the construction of the anilox roll further.
Flexo-Anilox Applications
To truly understand what is an anilox, you must understand the different flexographic printing processes it is used in. Though the print process is very similar, the anilox specifications will change depending on the size of the web, the substrate being printed on, and the ink or coating being used. Here's a quick look at each of the main types of flexo printing.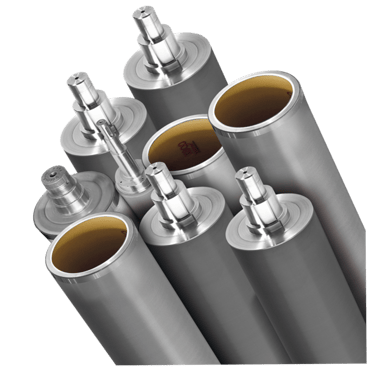 Wide Web Flexo. Wide web flexography is the printing process for large, flexible substrates such as films, bags, and pouches, with a printing web wider than 40 inches. The equipment is known to be jumbo in size and operate at extremely high speeds, over 1,000 feet per minute (fpm). Speed is the key factor for competitive wide web print applications and the anilox roll will be expected to lay a precise amount of ink on the print plate so as not to impede on the ink dry time, and therefore speed of the press. Anilox rolls are very wide in length and cell count in wide web range from 500 to 2,500+ lpi.
Narrow Web Flexo. Narrow web printing is the flexo process for small substrates such as tags and labels, with widths under 16 inches. Press speeds are usually around a few hundred feet per minute. The key role of the anilox in narrow web applications is precision ink laydown for small, intricate print. With type fonts as little as 5pt and thin graphic lines found throughout the artwork, narrow web printing is a process for perfection. The anilox roll will be short in stature and need a high line screen, traditionally 500lpi or higher. Excellence in cell engraving during the manufacturing process is vital in achieving the quality standards found in narrow web.
Corrugated. Corrugated printing is a flexographic printing process on coated or uncoated corrugated board materials. This print application is traditionally large format, block letter style print on a machine capable of printing, folding and gluing the board – a full conversion process. The anilox roll will need to be capable of achieving thicker ink laydowns than found in wide web and narrow web applications, while also not impeding on the speed of the flexo folder gluer. Anilox rolls are also used in the gluing process during corrugated sheet manufacturing and can be an important factor in starch and glue savings. Anilox sizes range from mid-web to wide web and line screens found in corrugated are often under 500 lpi, with most around 150 lpi.
Coating & Lamination. The flexographic process can also be used for pre-print or post-print coating and lamination applications. The same process of anilox to printing plate to substrate will be used to apply primers, specialty coatings and premium laminations to the roll or sheet. Anilox roll specifications are unique to the coating or lamination process and will require a consultation to determine the right roll and engraving geometry for the job.
It's important to note that all flexo printing applications, environments and production mixes are unique to each facility. Apex International provides anilox engravings in the following geometries: 60° Hex, our patented GTT, 45°, LongCell, Channellox, Tri-Helical, Positive and other custom options.

To discover the best cell shape and cell count for application, please speak with your Apex sales representative for a consultation.
Key Anilox Components
To perform its duties efficiently and profitably, an anilox must adhere to the following:
Anilox cells must be consistent and uniform across the cylinder.
An anilox cannot accurately pick up and lay down a precise amount of ink or coating without surface cells manufactured to the highest quality standards. A poorly manufactured anilox roll can cause splotchy ink laydown, alternating between too much or too little ink throughout the surface of the printing plate and therefore the print.

This can result in ink and substrate waste (and hopefully a call to Apex for better anilox solutions). Ultimately, for an anilox to truly be an anilox, its cells must be consistent.
An anilox is a consumable that must be cleaned and maintained regularly.
Though of extremely high importance to the flexo process, anilox rolls and sleeves are ultimately a consumable which can be removed and replaced on press. The OEM manufacturing quality and the cleaning and maintenance of your rolls will be a large factor in roll life and overall cost of the anilox. To maintain the quality of these products, it is important to clean your aniloxes regularly, inspect with MicroDynamics Veritas Inspection Systems and set up a re-engraving program with your anilox supplier. This is not a component that you "set it and forget it". Anilox rolls will wear over time and require cleaning, maintenance and re-engraving from your manufacturer. That is why it is important to not just find a quality anilox roll, but a knowledgeable anilox partner with global service and support to keep operations running smoothly.


Anilox specifications must match the equipment.
There is much consideration that goes into the purchase of an anilox solution, and your press OEM is a large factor. Your anilox is only as good as its compatibility with the press specifications. At Apex International we follow the highest manufacturing standards to achieve exact OEM specifications. Our industry leading TIR and OD tolerances mean your anilox products are manufactured to perfection. With inventory audits provided through the new 3DQC Veritas system, you can confirm your Apex anilox solutions are the best for your specific applications.
Choosing A Quality Anilox Partner
With decades of experience in anilox manufacturing for a wide variety of flexographic applications, Apex International is trusted by thousands of printers and converters around the globe. Our solutions are innovative; our offers are concise – we manufacture anilox rolls for every application and we have since 1989. With 7 locations worldwide and counting, you can rest assured you can receive anilox rolls held to our global quality standards, regardless of supply chain volatility.
As experts in anilox manufacturing, as well as technical service and support, you can count on Apex International as your full-service anilox provider for years to come. Innovator of anilox transfer technologies, Apex engineered the proprietary GTT engraving to accommodate converters seeking product and process diversification. The patented open slalom ink channel in our GTT engraving provides an exact volume of ink flow and can be used in a variety of print and coating applications. From our global supplier network to our patented anilox innovations, there are many advantages to choosing Apex International as your trusted anilox partner.
Contact our team today to learn more about quality anilox solutions and work with an anilox provider dedicated to your success.