Hapert, the Netherlands — Packaging solutions firm Print & Pack has been appointed as the official supplier of Apex International within the Australasia region.
Originated in 1980, Print & Pack has grown into an industrial service provider with an international distribution network. The partnership will provide the local market with Anilox innovations and solutions, including the Apex patented technology that reinvented ink transfer: GTT engraved Anilox rolls.
Commenting on the partnership, Managing Director and Shareholder Casten Wendler said, ''The team at Print & Pack Australia & New Zealand are very excited to enter into this partnership with Apex International. It 100% fits into the Print & Pack philosophy of being a leading supplier to the Australian and New Zealand printing and packaging industry with top quality products that represent the pinnacle in its segment.''
Both teams are eager to be engaging with the Australasian packaging industry. Including Miro Williams (Sales Manager Corrugated & Offset at Print & Pack) and Peter Williams (Sales Manager Labels and Flexibles & Offset at Print & Pack), along with Nick Harvey (Technical Director at Apex).
Wendler continues, ''Apex International is the innovation leader in the anilox market of which the industry will benefit from in terms of print quality, cost savings and waste reduction. For us, it was therefore a logical choice to engage with Apex International. The focus of this engagement is also to ensure supply security with acceptable lead times which has become a major topic across the all market segments.''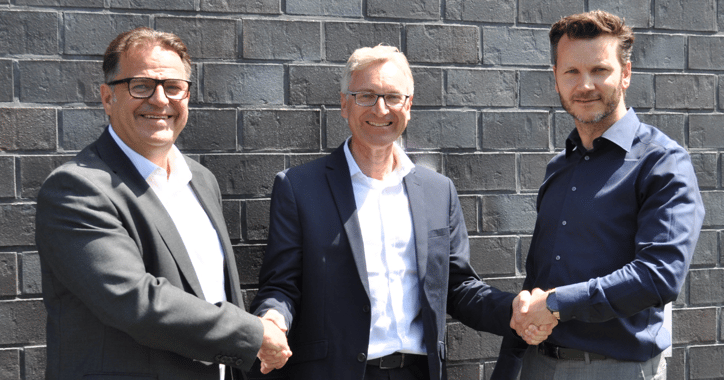 Pictured, from left, are Nick Harvey (Technical Director Apex), Carsten Wendler (Managing Director Print & Pack) and Ruud van Cuijk (Managing Director Apex Europe)

''Apex International is thrilled to be partnering up with Print & Pack to bring our state-of-the-art Anilox technology to the Australia and New Zealand market.'' stated Nick Harvey, Technical Director of Apex International. ''This partnership will cement the already accepted 'High Quality' product line from Apex with the premier customer service that Print and Pack is universally recognized for Print & Pack has a strong presence in Australasia and that is exactly what sets the company apart in the industry.''
About Apex International
Apex International, headquartered in Hapert, The Netherlands, is the leading manufacturer of anilox and metering roll solutions in the world. The company employs approximately 300 people and serves over 5,000 customers in all markets (corrugated, narrow-web, wide-web, offset and coating applications) on a global scale. Apex operates five production facilities worldwide, providing a local presence for customers and a global network to serve multi-location businesses and multi-national corporations.
Need help with Anilox for your business? Drop us a line and see what Apex can do for you.
Talk to us today:
sales@eu.apexinternational.com
+31 (0) 497 36 11 11