Hapert, the Netherlands —
With over two decades of experience in the Flexo Industry, Markus Franz has joined Apex Europe as Technical Sales Manager Germany. The appointment has been made due to the growing number of customers' need for support and rise in anilox installations.
Markus will be assisting the growth of the Apex Anilox brand and connected solutions to educate and support our German customer base to achieve their most promising print results.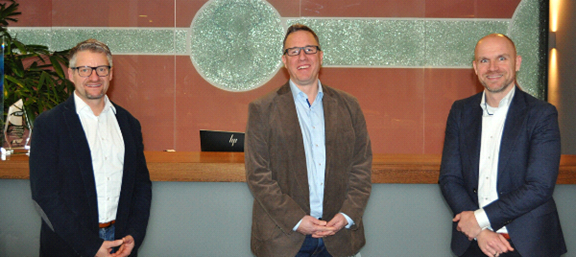 Pictured, from left, are Christian Huth (Area Sales Manager Germany), Markus Franz (Technical Sales) en Joris Cabri (VP Sales Europe & Africa)
''Markus has a great track record. He shows a strong passion for finding solutions within the flexographic industry'', Said VP Sales Europe & Africa, Joris Cabri.
''I am confident that he'll prove a great addition to our team. We are looking forward to him bringing his energy and experience in print techniques and sales to our company.'' — He adds.
Commenting on what he sees most forward to, Markus shared, ''I am happy to join a company that has such great history and innovation. Apex is a solution provider I know well from my time in the industry. I look forward to deep diving into the growing Flexo and Corrugated market. More importantly, getting to know the customers and working closely with my colleagues.''
About Apex International
For over 25 years, Apex International is world's largest provider of Anilox rolls, glue sets, metering products and print maintenance solutions. With five production facilities on four continents and a strong portfolio of clients in over 80 countries. At the heart of Apex' solutions is the innovation GTT 2.0, which enables print companies and print technicians to deliver consistent print-to-plate transfer and better print quality.
Need help with Anilox for your business? Drop us a line and see what Apex can do for you.
Talk to us today:
sales@eu.apexinternational.com
+31 (0) 497 36 11 11