NASHIK, India - Echaar Equipments showcased its first CI flexo printing press on April 13, 2022. The New Generation fully loaded CI FLEXO PRESS, with its compact design and mechanical rigidity, offers flexibility and speed to the converters to fulfil a wide range of flexible packaging jobs.
The FLEXOMASTER HR-500 was equipped with Apex GTT 2.0 anilox sleeves and demonstrated the capabilities and printability for present market needs.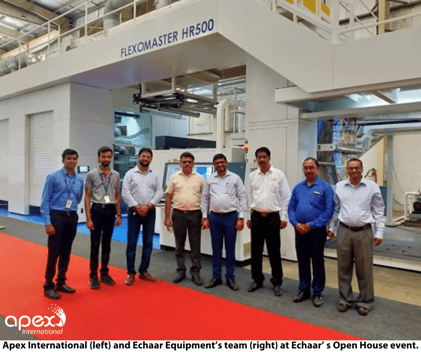 Apex International is the world's largest Anilox producer, with headquarters in Netherlands and production facilities in Italy, Latin America, North America, and India. For over 25 years, Apex has been committed to serving the printing industry through innovations. The state-of-the-art factory at Nashik, producing high quality aniloxes and sleeves, caters the needs and requirements of all the countries of the Indian Peninsula and Asia-Pacific region, including China, Japan, South-East Asia region, Australia, New Zealand, and the Middle East.

Apex International is rigorously and constantly working towards addressing the needs of the customers in all segments of flexible packaging, offset, corrugated and coating markets. They offer a wide range of products including their patented GTT 2.0 anilox technology, conventional 60-degree UltraCell aniloxes, Accora Glue and Doctor rolls for corrugated market and specialized screens for coating applications.

"We believe that the time for flexo printing is started in India. We are thankful to the Echaar team to share such a wonderful platform with us, from where we can showcase future of flexo printing with new generation GTT anilox sleeves of Apex International" said Mangesh Bhise, Director sales and marketing, Apex Asia Pacific Pvt. Ltd.

About Apex International
Headquartered in the Netherlands, Apex International is an award-winning global manufacturer of anilox rolls, sleeves, glue sets, metering products, and print maintenance solutions. With five production facilities on four continents, a growing portfolio of clients in over 80 countries, and a high-performance continuous-improvement culture, Apex's mission is the customer's production success. Through technical innovation, service, and manufacturing precision, Apex delivers reliable, durable, and predictable metering solutions to its client's presses every minute of the day.