Hapert, the Netherlands — Apex International brings back the biggest, most-resourceful Anilox training seminar of Europe after 1 year.
In the winter of 2022, Apex Europe welcomed over 130 people in printing and packaging to their in-house auditorium for the industry favorite Apex LIVE Anilox seminar.
The overarching theme at Apex LIVE is knowledge sharing. As knowledgeable as we all are, we are living in busy times. Study material often ends up on our shelves after purchase. That's where Apex comes in. Instead of spending months figuring everything out on their own, printers and production employees learn everything they need to know about anilox rolls in 1 day.
"The seminar was designed to introduce the anilox roll and its role in the printing press. After the program, participants know which aspects influence the best printing result, how to handle the anilox rolls carefully and how to maintain them so they can confidently work with rolls." Edwin Spijkers shared, Area Sales Manager at Apex and host of the Dutch seminar.
Arno Vonhaus, Technical Sales Manager and host of the German seminar, added, "All speakers during Apex LIVE are experts who work with rollers daily. Participants also meet market colleagues with whom they step into the world of the printing process and take a tour of the Apex Europe production, where Apex produces and reworks more than 12,000 anilox rolls annually!"
Over 130 printers joined the 2022 seminars, arriving from Belgium, Luxembourg, The Netherlands, and Germany. The sessions were an excellent opportunity for the participants to learn more about anilox technology, the heart of every printing press, and how to get the most out of their anilox rolls. Be it from the Corrugated, Flexo Wide Web, Label, Coating, or Offset industry. Printers had the chance to ask questions and share their experiences, and participants left the seminar with a better understanding of anilox rollers.
When asked to share their experience, a participant from Oerlemans Plastics declared positively, ''An interesting day with a well-organised tour, fun educational lectures and networking!'' Participants from Smurfit Kappa all agreed, "As a printer, it is impossible to keep up with all the market know-how. That's why this event is so interesting; now I'm fully informed again! It's always good to be in such an expert environment, then the pieces start to fall, and you automatically get new insights."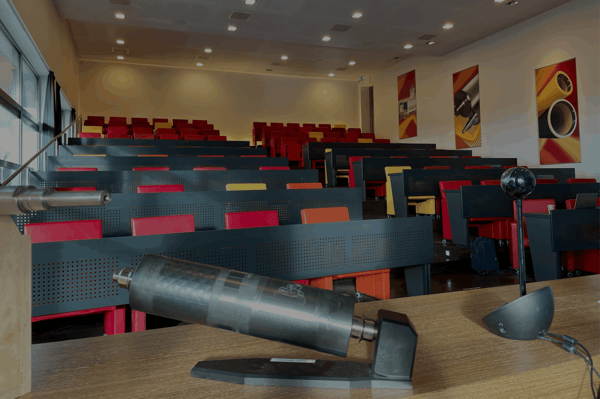 Pictured, the Apex auditorium, located in the Apex International headquarter, Apex Europe, the Netherlands.
When is Apex LIVE 2023?
2023 Apex will feature the first-ever United Kingdom version of Apex LIVE. Printers and other print professionals from Germany, The Netherlands, and Luxembourg can experience the live event again at the Apex Europe auditorium, Hapert (NL). All event dates will be announced in early 2023. A ticket for the event gives access to the seminar days, including writing materials, lunch, drinks, and a goodie bag afterward. Preregistration can be done via this link.
About Apex International
Apex International, headquartered in Hapert, The Netherlands, is the leading manufacturer of anilox, metering and embossing rolls in the world. The company employs approximately 370 people and serves over 11,000 customers in all markets (corrugated, narrow-web, wide-web, offset, embossing, rotary screens and coating applications) on a global scale. Apex operates seven production facilities worldwide, providing a local presence for customers and a global network to serve multi-location businesses and multi-national corporations.