To meet soaring regional demand for premium anilox rolls and sleeves, Apex International's Latin America facility in Brazil has installed a new state-of-the-art laser, significantly increasing their production capacity. This addition to Apex Latin America's Curitiba facility is one of many upgrades across Apex International's locations in keeping with its global expansion initiative, Vision: 2020s.
"We are very pleased with this investment," says Valcinei Bisineli, Managing Director of Apex Latin America. "In recent years, as our market demand increased, we faced challenges regarding delivery times. The addition of our fourth laser engraving machine significantly increases capacity and reduces our delivery times, allowing us even faster anilox production while maintaining our quality standards."
Latin American wide-web flexo, label, and corrugated printers can thus expect high-precision Apex anilox rolls and sleeves available with even quicker order turnaround.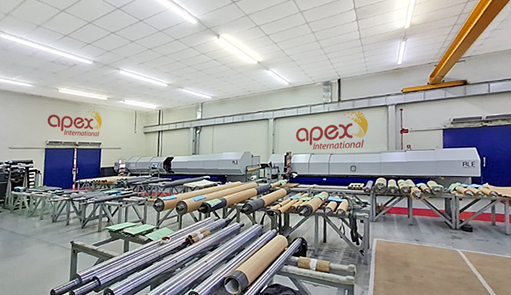 Apex Latin America´s laser room featuring brand-new laser engraving machine at right.