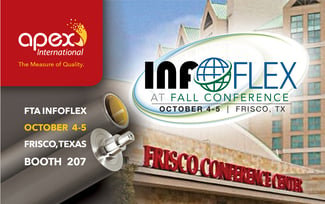 FRISCO, Texas — Celebrating 20 years in North America, Apex International welcomes all INFOFLEX Fall Conference attendees to visit Booth 207 for news about Apex's expanding anilox product innovations. From October 4-5, 2021, Apex staff will be present at the Embassy Suites Convention Center in Frisco, Texas.
INFOFLEX at Fall Conference is a fully-expanded exhibit experience and part of FTA's #FallConference2021 — the first live conference and exhibition for the entire flexographic industry in two years.
That means more space and more time to speak and network with technical experts. Apex will be on-hand to talk one-on-one, detail its range of products and services, and offer custom solutions for tough flexo questions.
Learn more about our INFOFLEX at Fall Conference booth, and register to attend Fall Conference 2021, at https://fallconference.flexography.org/exhibitors/apex-international/
About Apex International Headquartered in the Netherlands, Apex International is an award-winning global manufacturer of anilox rolls, sleeves, glue sets, metering products, and print maintenance solutions. With five production facilities on four continents, a growing portfolio of clients in over 80 countries, and a high-performance continuous-improvement culture, Apex's mission is the customer's production success. Through technical innovation, service, and manufacturing precision, Apex delivers reliable, durable, and predictable metering solutions to its client's presses every minute of the day.