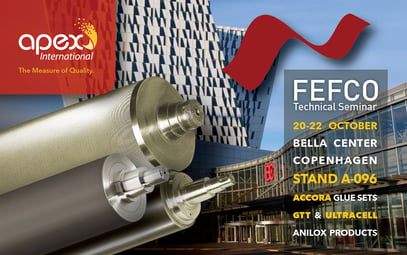 COPENHAGEN, Denmark — Apex International welcomes all FEFCO Technical Seminar attendees to visit Stand A-096 for news about Apex's expanding corrugated industry innovations. From 20-22 October, 2021, Apex staff will be present at the Bella Center in Copenhagen to assist corrugated board manufacturers and printers in ways to #BuildBetterBoard.
FEFCO's Technical Seminar theme this year is "Toward Intelligent Manufacturing" and includes an October 22 panel discussion on Smart Sustainability. Apex will be presenting at its stand corrugated-industry products which offer significant benefits to enterprises striving for "greener," high-efficiency board manufacturing and printing methods.
"FEFCO 2021 will be the biggest live event for the corrugated industry held this year and will be a must-visit to keep up with market developments and innovations,'' observes Joris Cabri, VP Sales Europe & Africa of Apex International.
With more than 1,000 visitors from over 40 countries expected to attend, the FEFCO show features a 3,500m2 exhibition area to showcase end-of-line solutions. FEFCO has had many successes using the technical seminar as a high-profile event to generate media buzz around corrugated packaging producers and suppliers of machinery, technology, and services.
"This trade show offers opportunities to engage in various machinery and technology trends that are on view. We look very much forward to meeting colleagues, partners and clients in person again,'' Cabri adds. The Apex International booth will be hosted by Joris Cabri, Jens Bjorn, and Remo Friebe.
Apex #BuildBetterBoard Initiative
As the corrugated industry matures and consolidates, innovations which improve board quality and printing quality must also demonstrate sustainability and profitability benefits. Apex International's dedication to environmentally-responsible manufacturing and printing has resulted in glue set and anilox products which have proved to reduce energy and materials cost — while delivering higher-quality end-products. #BuildBetterBoard is a coordinated initiative by Apex to provide these innovative solutions to board manufacturers and printers.
Accora Long-life Glue Sets For board manufacturers, the Accora glue set product line features high-longevity stainless steel applicator rolls and ceramic doctor rolls which deliver high-speed, high-performance board-glueing and have demonstrated reduced steam, energy, and starch usage in real-world conditions.
The durability of Accora's glue set component materials results in longer product lifecycles and can minimize – or outright eliminate – common glue set faults like flaking, corrosion, and scoring. Accora's precise manufacturing tolerances enable a consistent, controlled glue/starch gap over the full length of the applicator roll which, in turn, evenly applies starch across the board. With Accora, problems like warp, washboarding, and wet edges can be more effectively managed, thus avoiding rejections and concomitant waste.
Anilox Products for Corrugated Printing Apex offers the corrugated printing industry all cell based and open structure engravings on anilox rolls. These options include UltraCell conventional closed-cell anilox engravings and the patented GTT open-channel engraving. Both engravings provide corrugated printers predictable, high-quality ink transfer. GTT engravings deliver the added advantage of easier clean-up and superior retention of ink volumetrics over the long term.

Examined as a whole, Apex International's corrugated-industry products, in conjunction with a customer's well-tuned corrugators and printing presses, have a superior proven ability to reduce waste, inefficiency, and energy requirements if such goals are important for an enterprise. Apex technical experts are always at the ready to offer assistance in troubleshooting and optimizing corrugated glueing and ink-transfer operations.
To learn more about FEFCO Technical Seminar and register to attend, visit: https://www.fefco.org/fefco-technical-seminar-2021/registration
About Apex International Headquartered in the Netherlands, Apex International is an award-winning global manufacturer of anilox rolls, sleeves, glue sets, metering products, and print maintenance solutions. With five production facilities on four continents, a growing portfolio of clients in over 80 countries, and a high-performance continuous-improvement culture, Apex's mission is the customer's production success. Through technical innovation, service, and manufacturing precision, Apex delivers reliable, durable, and predictable metering solutions to its client's presses every minute of the day.