Apex moves forward in Vision: 2020s promise of significant global expansion.
Apex International, global leader of anilox rolls, sleeves, glue sets, and metering solutions, held a celebratory groundbreaking to mark the commencement of construction on their new Pennsylvania manufacturing facility.
The new facility is located in the Alta Vista Business Park in Fallowfield Township, PA and will be replace the existing location in Donora, PA. Guardian Construction Management Services, an established southeast construction management partner, is the selected contractor for the building initiative. Leadership teams from Apex International and Guardian Construction were onsite to conduct the groundbreaking in mid-August.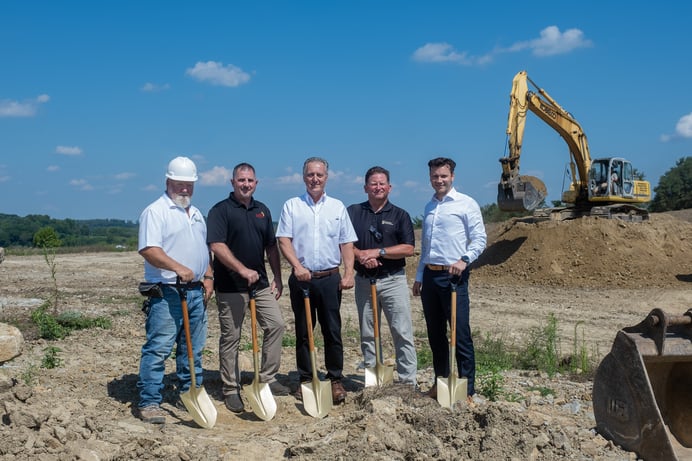 From left to right: Richard King (Superintendent, Guardian), Kevin Dewar (Project Manager, Apex), Dean Clark (Director of Business Development, Guardian), Dennis O'Hara (President, Guardian) and Ruud van Cuijk (Managing Director, Apex North America)
The new property will sit on more than 12 acres of land and occupy over 58,500 square feet – more than twice the size of the Donora manufacturing site. The facility's primary purpose is to expand and elevate the manufacturing and warehousing capabilities of Apex International's anilox roll and sleeve, glue set, metering roll and print maintenance products. Construction on the property began August 22, 2022, with an expected occupancy date in 2024.

The Fallowfield facility is part of Apex's "Vision: 2020s" plan, a multi-phase growth strategy, announced in Spring 2021. Vision:2020s entails investments in new buildings, new production equipment, and new personnel, in order to scale up production capacity and elevate product quality.

"Apex International planned major investments into global facilities and capital equipment to address anticipated industry growth," states Ruud van Cuijk, Managing Director of Apex North America. "It is exciting to witness the initiative come to fruition - this long-awaited expansion will give our customers much quicker order turnaround and much more."

To learn more about Apex International's growth initiative, Vision:2020s, read the full press release at: https://blog.apexinternational.com/apex-press-releases-us/apex-international-unveils-global-manufacturing-expansion-and-staffing-growth
For information on Guardian Construction Management Services, visit their website at https://gcmsi.com/
About Apex International
Apex International is an award-winning global manufacturer of anilox rolls, sleeves, glue sets, metering products, and print maintenance solutions. With five production facilities on four continents, a growing portfolio of clients in over 80 countries, and a high-performance continuous-improvement culture, Apex's mission is the customer's production success. Through technical innovation, service, and manufacturing precision, Apex delivers reliable, durable, and predictable metering solutions to its client's presses every minute of the day.