Hapert, the Netherlands — Apex International (Europe) officially confirmed sponsorship of Dutch Football club FC Eindhoven for the 2022/23 season.
The sponsorship has officially launched during the first home game of the season. FC Eindhoven hosted Willem II on Friday 12 August at their own Jan Louwers Stadium and won the game with 2-1.
Ruud van Cuijk, Managing Director at Apex Europe, expressed his excitement about the sponsorship, ''FC Eindhoven is just as innovative as Apex. But what makes us truly the perfect match is an ambition to grow and the strong connection to the local community that characterizes both parties.''
Commenting on the connection to football he shared, ''This sponsorship is not about football in itself, but the main connecting factor that Apex Europe has is that this partnership offers us visibility and the chance to do something for the people living in this region.To enhance the social involvement of Apex Europe and make our brand more accessible to the community.''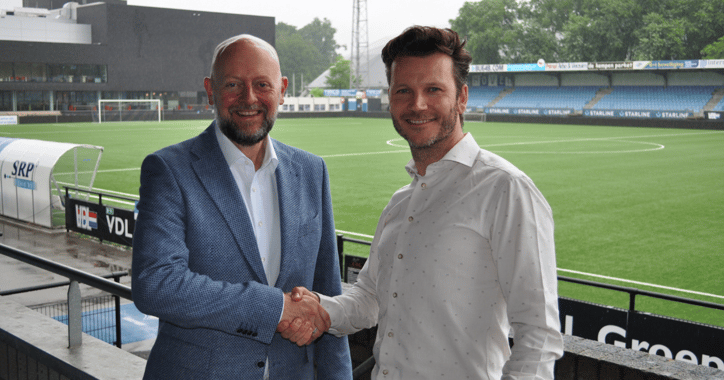 Pictured, from left, are Günther Peeters (General Manager FC Eindhoven) and Ruud van Cuijk (Managing Director Apex Europe)
FC Eindhoven shared, ''FC Eindhoven wants to further expand its strong anchoring in Eindhoven with the regional business community, in which the partnership with regional companies and its employees provides a positive impulse for both. Apex and our club have found each other in this vision and we are proud that this leading company from 'de Kempen' has joined our network as Premium Connect. We are convinced that this partnership will be long and successful.''
About Apex International
Apex International, headquartered in Hapert, The Netherlands, is the leading manufacturer of anilox and metering roll solutions in the world. The company employs approximately 300 people and serves over 5,000 customers in all markets (corrugated, narrow-web, wide-web, offset and coating applications) on a global scale. Apex operates five production facilities worldwide, providing a local presence for customers and a global network to serve multi-location businesses and multi-national corporations.