Milestone marks offset industry embrace of higher-quality, low-consumption coating rolls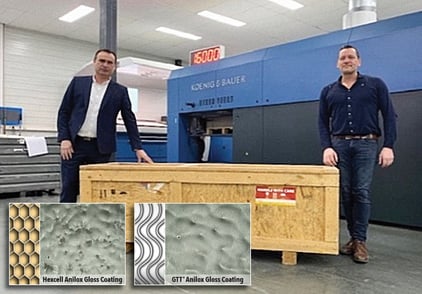 HAPERT, the Netherlands — Apex International today announced delivery of its 3,000th GTT anilox coating roll to the global offset market. VOB Hardenberg, a renowned Dutch offset printer, received its "GTT-M" coating roll to better serve its customers with higher-quality in-line lacquer coatings — while enabling overall reduction in material consumption and changeover time. Apex's GTT (Genetic Transfer Technology) anilox engravings employ an open-channel liquid-transfer geometry that improves liquid transfer mechanics better than its closed-cell anilox predecessors.
"To put it simply the GTT roller delivers in production all the benefits that are promised," notes Vincent Wellenberg, VOB Hardenberg's Production Manager. "It doesn't surprise VOB that Apex has delivered 3,000 offset GTT rolls."
"Working closely with Apex," adds Wellenberg, "we have enjoyed technical successes that have resulted in improved quality and subsequent cost reductions relative to our coating and lacquer requirements."
Features and benefits of GTT offset anilox rolls include:
Measurably superior coating quality:

GTT drastically minimizes mottling and pin-holing, with a subsequent gloss increase previously achievable only with larger anilox volumes. Optically-improved matte/satin coating is also achieved.

Reduced coating consumption:

Offset printers report coating liquid savings in excess of 15%, depending upon the coating application. GTT's open-channel geometry makes this possible by availing more liquid surface area for transfer, resulting in a thinner – yet more homogeneous — coating lay-down.

Reduction in anilox roll changes:

Apex has consolidated offset coating roll requirements into just five different GTT engraving profiles which satisfy the broad range of offset coating market needs. Each of five engravings (GTT-S, -M, -L, -XL, and -XXL) delivers control, consistency, and cost savings for its unique coating purpose.

Minimization or Elimination of Lacquer Foaming:

GTT's engraving geometry doesn't trap air in the way conventional closed-cell anilox rolls do; its open channels provides for calm liquid flow in the doctoring and transfer phases. As a result, lacquer foaming — and its resultant pinholing — are drastically minimized.
Apex offers its OEM-approved GTT offset coating rolls in all global regions, and for all offset-press coating towers. To allow printers to determine which GTT profile will deliver optimal results, Apex can delivery promptly any of a wide variety of in-stock banded GTT test rolls for printers' assessment trials.
About Apex International: Netherlands-based Apex International is the world's leading manufacturer of precision coating, ink, and glue-metering anilox technologies. Serving the offset, label, flexo, corrugated, and industrial coating markets, Apex maintains five state-of-the art production facilities on four continents and serves more than 80 countries with innovative, cost-effective, and sustainable metering products.
---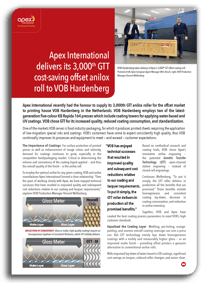 DOWNLOAD ARTICLE: A full article on this topic is available for download by clicking this picture link. Article may be reprinted in flexo or offset industry publications in whole or in part.