Apex International is the leading manufacturer of anilox and metering roll solutions in the world. With 5 production facilities on 4 continents, a strong portfolio of clients in over 80 countries and a high-performance continuous improvement culture, Apex's value proposition is founded on developing solutions to satisfy the complex print challenges our customers face every day. Apex products are used in the Flexographic printing industry as well as the Offset, Industrial Coating and the Corrugated industries. As of November 1st, Phill Rogers has been appointed as the Market Area Sales Manager in Ireland and the UK.
Phill has approximately 20 years of experience in the flexographic industry within the UK. In that time he has occupied various positions ranging from production, operations, commercial and sales and technical support.
Phill Rogers states: "My combined experience and diverse skillset will enable me to deliver Apex Anilox products to the UK market, supported by the delivery of a robust approach to after-sales service and support. I have been directly involved in supplying the Corrugated and Wide web industry with products such as Anilox Rollers, Reprographics and Photopolymer printing plates. In addition I have also supplied print consumables such as cleaning solution systems, Ink metering systems and doctoring blades."
Previously, Phill delivered robust after sales support through a true added value service. He worked closely with his customers to deliver technical print trainings and developments through on site education. He supports with innovation and continued support through anilox audits and remote trouble shooting. Phill will bring his knowledge tot the Apex team to help deliver the Apex product offering to the UK market.
Jaco Pijper, Area Manager UK & Eastern Europe, comment: "The cooperation with Phill Rogers is an important one to Apex. Phill and Apex share the same values when it comes to customer service and providing high quality products. The technical skills of Phill make a difference when it comes to offering a total package of products, service, support and advice."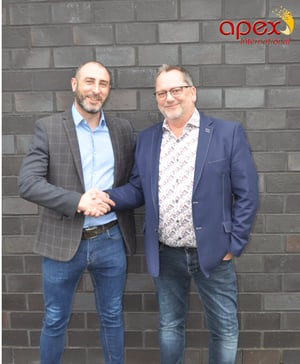 Picture: Phill Rogers; Market Area Sales Manager (left) and Jaco Pijper; Area Manager UK & Eastern Europe (right)
Apex is very pleased with the appointment of Phill for the UK market. With his understanding of the needs and requirements of the UK market, he is eminently someone who can play a decisive role in many developments and utilize the world of the printing industry.
Contact details:
M: +44 (0)7704 168462
E: progers@apex-europe.com
Visit our website:
www.apex-groupofcompanies.com


For more information, please contact:
Babette Maessen
Marketing Coordinator, Apex Europe B.V.
Tel. +31 (0)497 361 111