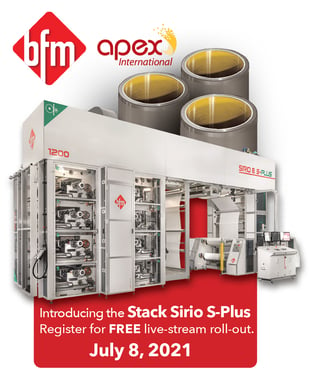 Free Registration is NOW OPEN for the July 8, 2021 live digital event unveiling BFM's Sirio S-Plus equipped with Apex anilox sleeves
Broadcasting live from BFM's Solbiate Olona headquarters in Italy, the unique technological innovations of the Sirio S-Plus will be unveiled, including:
Consistently higher print quality;

Better workflow efficiency and productivity through easy and precision-register job changes;

Greater substrate flexibility thanks to the machine's ability to process various types of polymeric or paper materials — including raw organic origin;

Compact footprint, ergonomic lay-out, and modern design.





The Sirio S-Plus press is a 6/8-color "stack type" machine designed for packaging printing on different plastic materials but also suitable for paper materials — either in-line with the extruder, or from reel-to-reel.
As a partner in BFM's event, Apex International has supplied for the press eight next-generation HD Anilox Sleeves employing UltraCell+ engraving technology which enables stability and repeatability in the printing process, delivering accurate ink volumes for the consistent-quality results. Thanks to Apex's proprietary UltraMelt laser-engraving process, UltraCell+ provides a more efficient ink-to-plate transfer, faster cleaning, and extremely high resistance to corrosion, scoring, and scratches.
The flexo community is invited to attend this at no-cost via live-streamed internet connection. BFM's novel innovations deployed in its new press, in combination with Apex anilox sleeves, embody a distinct refinement and evolution of flexography.
Click for FREE REGISTRATION: https://docs.google.com/forms/d/e/1FAIpQLSfcWqb5bPS_FtkCbni0FBb_7mcQAKxyN07CfLUjpfGzlXBZKw/viewform?usp=sf_link
---
EVENTO DIGITALE – BFM Presenta la nuova macchina da stampa Flexo Stack
BFM il prossimo luglio avrà il piacere di presentare "Sirio S-Plus" equipaggiata con anilox Apex REGISTRATI PER PARTECIPARE ALL'EVENTO!
BFM, costruttore Italiano di riferimento a livello internazionale nel campo della realizzazione di macchine per materie plastiche, presenterà il prossimo 8 Luglio 2021, l'ultima nata: la macchina da stampa Stack Sirio S-Plus.
Nell'open house, allestito nella sede aziendale di Solbiate Olona, verranno illustrate tutte le innovazioni tecnologiche tra le quali:
L'alta qualità di stampa;

Efficienza e produttività mediante cambi di lavoro agevoli e precisi';

Grande flessibilità di impiego grazie alla capacità di processare materiali polimerici di diverso tipo anche da materie prime di origine;

Un lay-out compatto e design moderno.
Apex International sarà partner dell'evento di BFM, grazie al supporto nei gruppi stampa; infatti la Stampa modello Sirio S-PLUS è una macchina "Stack type" a 6/8 colori progettata per la stampa su diversi materiali plastici per il mercato del packaging, in linea con l'estrusore o da bobina a bobina.
Apex ha fornito 8 sleeve HD di nuova generazione, che grazie al processo di incisione UltraMelt, consentono un trasferimento inchiostro-lastra più efficiente, una pulizia più rapida, una resistenza alla corrosione ed ai graffi estremamente elevata. La tecnologia UltraCell Plus, sviluppata mediante UltraMelt, permette di ottenere una stabilità ed una ripetibilità di stampa, grazie a volumi più accurati e supportando lo stampatore in modo da fornire i migliori risultati di stampa.
Per poter ammirare tutte le novità e le innovazioni proposte da BFM sulla nuova macchina Flexo Stack, in combinazione con gli anilox Apex, Vi invitiamo a partecipare all'evento registrandovi on-line al seguente link: https://docs.google.com/forms/d/e/1FAIpQLSfcWqb5bPS_FtkCbni0FBb_7mcQAKxyN07CfLUjpfGzlXBZKw/viewform?usp=sf_link